Arcadia of My Youth
-


"At the end of the journey, all men think that their youth was Arcadia..."
Genre: Science Fiction / Action / Drama
Comments: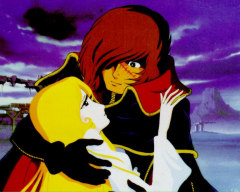 I watched the AnimEigo 2 hour + uncut, unedited subtitled version of this movie in May of 1999. Arcadia of My Youth was released in 1982, and as such (to my delight) is drawn in the old art style reminiscent of Battleship Yamamoto (Starblazers) generation anime. This movie is an Anime classic, and is the masterpiece work of the legendary Leiji Matsumoto (who also created Battleship Yamamoto and Galaxy Express 999).
The story centers around the space pirate Capt. Harlock, who after being defeated by the Illumedian forces, returns to earth only to find the majority of Earth's population has allowed themselves to be subjugated by the occupation forces. Harlock, unable to cope with living under the subjugation of the Illumedian forces, is forced to make the most difficult decisions of his life in order to survive and keep his commitments to his friends, guided only by his own unwavering sense of honor, loyalty, duty, and sacrifice. To tell you more would spoil the story.
'Arcadia ' - Any place where simplicity and contentment prevail.
Webster's 20th Century Dictionary - Unabridged
Arcadia of My Youth has the kind of deep story line that really defines what Anime is. Underneath the somewhat melodramatic plot, are the real life struggles of the human will to overcome all odds, and the message that a person must follow their own beliefs, even when those beliefs may fly in the face of conventional wisdom. As Harlock is transformed from defeated Earth soldier to space pirate fighting against tyranny, the moral of the story is clear: 'Never abandon hope'. This movie is a must see. (I HIGHLY recommend the subtitled release from AnimEigo).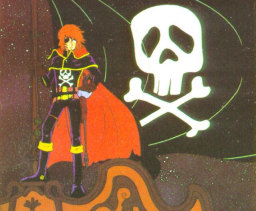 Ok, alot of you out there are asking, 'How does Capt. Harlock's Jolly Roger flap in outer space, and why does the Arcadia have a poop deck?' Harlock's answer is simply, 'Why all these silly questions? Hey, they called me Capt. Warlock in that one release of Galaxy Express. Oh, well, chalk it up to destiny.....'
Movie Synopsis:
Renowned Manga author Matsumoto Leiji's greatest creation, Captain Harlock, comes to the big screen in this magnificent film.
Set against the conquest of Earth by an alien empire, and drawing parallels to the post-WW2 occupation of Japan, Captain Harlock, together with those who will become his lifelong friends, battle against tyranny no matter what the cost.
As they fight the evil Illumidus Empire, the message of the film shines through: that one must stand up for one's beliefs, even when everyone else believes that slavery and suffering are preferable to the sharper pains endured by those who fight for freedom.....