Home

Anime Store

More about me than you ever needed to know...

-

Robert E. Brown Jr.

Age:

31

Height:

5'10'

Weight:

185 lbs (on a good day)

Location:

Harpers Ferry, West Virginia (USA)
Come on, you know where that is, right? American Civil War - John Brown's Rebellion? Don't worry, most people that live here don't remember their history either..... -_^

Profession:

I'm the president of the internet technology company Brown Technology Group, Inc, which is the parent company and technology advisor for the Anime Corner Store . I work about 80-90 hours per week, which explains a lot about me.......

Hobbies:

Watching anime - thinking about anime - talking about anime.

After that......playing with computer systems (i.e. keeping the network at my house running, or working on the servers that host our web sites...),horse back riding (I'm trained both English and Western), reading Sci-Fi and military history, playing Backgammon with Jamie, listening to music (J-Pop and anime soundtracks are the rage here these days), sitting by the fire and contemplating life.....

Education:

A little of this and a little of that, mostly in Business & Philosophy

Status:

Happily married to Jamie Charlene since 1991.

Skills:

Negotiation, investing, cooking, making the impossible work...

Favorites:

Musical Group: Pink Floyd
Classical Composer: Antonio Vivaldi (1678 - 1741)
Author: Frank Herbert
Novel: The Light Bearer, by Donna Gillespie
Sci-Fi Novel: The Dune Saga
Sports: Horseback Riding and Hiking
Anime Series: Macross
Anime Character: Misa Hayase - no other character comes close...
Anime Genre: ALL
Musical: Les Miserable
Cat (from 'Cats'): Jemima
--

An older picture of me - Back in the days of my Network and Computer Services Business.
The Arcadia of My Youth....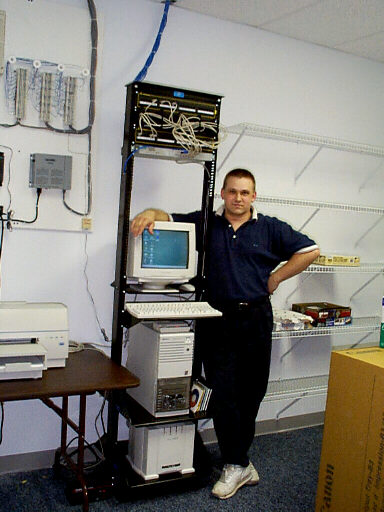 Me - And yes, I wired that patch panel. Woo Hoo!
Don't know what Midi file is playing on this page? Better get a fansub copy of Macross DYRL fast!
-Return to the Anime Corner Home Page -
---
Drop me a line: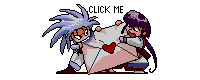 ---
This many Otaku's have visited since October 1st, 1998. You should have gotten here a little sooner...

Copyright © 1999-2001 Robert's Anime Corner (tm), All Rights Reserved.
© All Images, character names and titles are registered & copyrighted by their respective companies or owners!